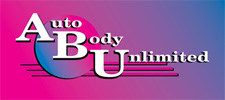 "The Crash Doctor"
4610 E. Los Angeles Ave., Simi Valley, CA 93063
(800)-679-4848
"The most resourceful
Auto Body Paint and Repair Shop
in the World!"
"We're your Neighbors
and Your Friends!"
Authorized U-Haul Dealer

For All of Your U-Haul needs Serving Simi Valley
and Southern California
WARNING!
IMPORTANT!

*Do Not Let your Insurance Company make the Estimate on Your Car FIRST!
Call Doc AND Watch Doc's New Video - also -

Read the Warning on the New AB1200 Insurance 'Steering' Bill

Before you Do ANYTHING - or you might be Sorry!
Many Insurance companies have their best interest as a priority, this is obvious!
Many say they will only offer a Lifetime Warranty if you use one of their 'preferred' shops.

As a shop that has been in business for over 23 Years, Auto Body Unlimited Inc. also, just like the insurance company, offers a
Lifetime Warranty!

Ins. companies would
'PREFER' to WRITE YOUR Estimate First. ABU has your Interest as a
1st Priority, so beware,
whoever writes the estimate 1st has the decided advantage.

Insurance companies are looking out for their own interests 1st and yours 2nd, While ABU works with ALL Major Insurance companies we are looking out for YOUR Interest 1st, You are OUR Priority! Get the attention to your Repair YOU Deserve!
Contact Dr. Jay, 'The Crash Doctor' FIRST...Before you get ANY Estimate!


Check out Dr. Jay's NEW VIdeo Tip # 4 !
Custom Paint Jobs
Car-o-Liner and Chief EZ Framing
All Makes All Models
Glass repair
Interior work
Computerized Estimating System
Complete Muffler Shop
*All Major Insurance Companies
A Full Service Auto Body Shop Specializing in every type of auto body repair, paint and restoration work and all types of automobiles


"Auto Body Unlimited Inc Opens Earlier and Closes Later than Most other Body Shops"
Mon - Fri 8:00am to 5:30pm
Open Most Saturdays until Noon
"
Special Features and Offers!
- Attention Experienced Body Man Wanted! -
Dr. Jay is getting busy and is looking for a good experienced Auto Body Man
Contact Dr. Jay personally 805-583-4848
Use the Finest Quality Paints and get the Finest Quality Auto Body Repair job!
*Spies Hecker Paint
Paint Systems for Generations


Special:
Insurance Deductible Financing
Plan!

Auto Body Unlimited Inc. "The Crash Doctor" 4610 E. Los Angeles Avenue
Simi Valley, CA 93063
(805) 583-4848
Toll Free (800) 679-4848 Fax (805) 583
-2918
We work on everything from luxury and Classic Cars to Trucks! Custom Paint jobs to complete Restoration!
Watch a real
Consumer Review
Testimonial from John Richardson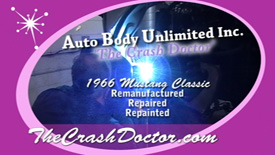 Classic 1966 Mustang

Repair, Repaint and
Restoration job. Watch the Video