Paul Lim's 2003 Honda Accord EX
Custom Body Kit and Review Video from Paul Lim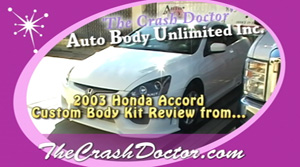 Auto Body Unlimited. will install your own Custom Kit for you. While ABU specializes in Installations, if you have a Custom Body Kit in mind Dr. Jay will also try and beat any price. This Honda was a collision damage and the owner wanted to have it customized. Dr. Jay and his skilled technicians carefully replaced and refinished the areas of the side spoilers and bumper to give this Honda a Customized look and feel.

Call Dr. Jay today for your Free Custom Body Kit Installation cost
(800)-679-4848

Gary Lang's 2007 VW EOS Convertible Custom Spoilers
From The Crash Doctor!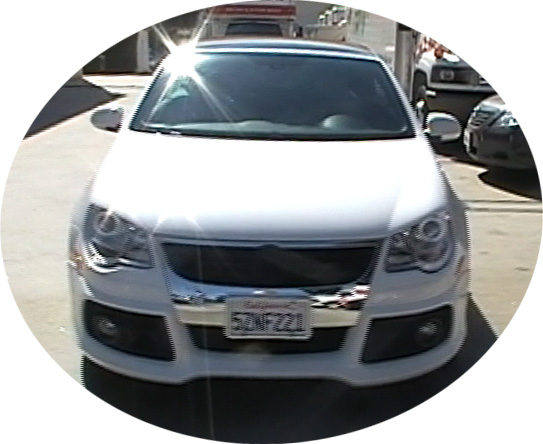 Dr. Jay installed lower spoilers front, rear and sides.
| | | |
| --- | --- | --- |
| | | |
Add Exotic Appeal and Value to your Car, Truck or SUV!
At Auto Body Unlimited Inc., we want to be your one stop center for all of your auto body paint, repair and custom needs. We are proud to announce our new service of adding complete custom body kits to your automobile. Exotic custom Body kits enable you to create a dramatic presence with an expensive sports car appeal. You bring us your Custom Body Kit and we'll do the rest. Can't find the one you really want. Then fill out our FREE Quote Form and we'll help you locate it at the best possible price. Give us a try, you'll be real glad you did, and so will your new Car!

How would you like your Dodge Durango to look like this?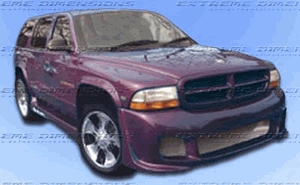 Auto Body Unlimited Inc offers some of the largest selection of services in the Auto Body Paint and Repair collision center industry. Now Dr. Jay is proud to announce, through overwhelming demand, the Custom Body Kit service for our customers.

At Auto Body Unlimited, Inc. we cam convert your stock auto into a dream machine with our body kit bumper covers and air dams. Paint-ready body kits electrify your ride's image.

Recognize this as a Chevy Camaro?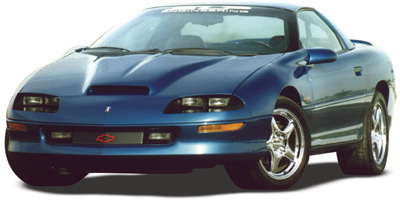 Get a FREE Custom Body Kit Insatallation and Paint Quote Now!

Improve the value of your ca, enter car shows, or just show off to your neighbors and friends. Use our simple Qoute form to get a FREE Quote on a body kit for your car, truck or suv today. You might be surprised how affordable it is!

Locations - If you live on Earth, we're not too far away!

No matter where you live, feel free to contact us. We have received calls from all over the state for our service. We service all of California. Why you could even drive your car to us and fly back. When it's done, fly back out and have a blast driving your new exotic car back home. We service Simi Valley, San Fernando Valley, Northridge, Granada Hills, Woodland Hills, Chatsworth, Studio City, Universal City, San Diego, Westlake Village and beyond.

You'll be surprised at how affordable one of our exotic custom car kits are. What's more you won't see 100 of the same car youre driving coming down the street every day either. Ever plan on selling it and you can arrange your own price. Most used cars go by blue book values, but a custom body kit can change all of that for you.
Body kits do the body more than good—it's a total transformation. Sleek lines, mind-blowing designs and a lowered look that's simply must-have. Custom Car, Truck and SUV Body kits give your ride that extra edge in bragging rights over a neighbor or buddy's stock rig with chrome stick-ons. For cars, trucks and SUVs alike, Auto Body Unlimited Inc. is now announcing our brand new service that can help you with all of the body kit parts you'll need for a bumper to a tail refresh. For the bigger rigs custome body kits trump your competition with the smoothest roll pans on the road. You get all of this with the reliability of having an expert Auto Body Shop that has been I-Car Gold for over 15 years running, that gives you piece of mind for a dramatic new look on your auto.

Give us a call today and tell us what you are looking for, you'll be glad you did.