Cosmetic Example 1: Front End Damage
Let's say you had a front end collision with substantial front end and suspension damage and the car is not safe to drive. We can save money and get up and running again by having us do a Cosmetic Repair. We will replace the suspension, repair the structural damage, replace lights as necessary and we will bend and straighten the sheet metal as necessary without replacing or painting.
Result:
Your car is now safe to drive once again and is 'cosmetically' repaired so it looks good and you now have a save car to drive once again saving you a lot of money over a complete traditional
conventional auto repair, having your car rotting in your back yard or having your car towed to the wrecking yard.

A Painless safe Low Cost Cosmetic Surgery Job, with the Highest Quality Fantastic Paint at a Fantastic Price... and out the door in Hours!
Let's consider a Cost-Decision Example:: 'Repair exceeds the Value of your Car'

If you have a had an accident and have $5000 of damage to your car that's only valued at only $3000, you'll most likely not want to spend the $5000 to fix it. You're may not even want to fix the car at all. What we'll do is make the car safe to drive and try to bend and mend the damage to the best appearance we can without the complete and more expensive conventional auto body shop procedures. This gives you your car back in safe working order, in a very short time, often within hours or the same day, the cost is cheap but the result is great while we save you a lot of money in the process.

Bonus Cosmetic Spot Repair Example:
Your rear bumper on your car was hit on the corner. A conventional repair would remove and refinsh the entire bumper costing $600-$800. We can Repair and Spot Paint the rear bumper on your car at a cost between $150-$300. The Results are exactly the same, there is no appearnance difference.

Put your car back on the road cheaply!

Disclaimer: In order to warranty the paint work we need to clear and paint the entire panel.
"Listening to our Customers is
what sets us apart from other Body
Shops. We want to you be
completely satisfied with your car
when we finish your job!"
'Remember, Auto Body Unlimited Inc. is one of California's best rated and most affordable ICar Gold Certified Collision Centers!
'
A New Kind of Auto Body Shop


We provide services on almost any aspect of auto body paint and collision repair work, just give us a Call Now!

Dr. Jay's Staff Meeting:
This months Featured Special:
''Cosmetic Auto Paint and Safety Repair!"
The Crash Doctor is now offering an 'Unconventional' Auto Repair Solution to
get you back on the Road in safety again!
"Pay Attention Staff,
this is Great!
Painless Cosmetic Surgery, low cost, safe and fast procedure!
Bend - Mend and Go!
| | |
| --- | --- |
| Sikkens Super Paint | |
2002 Chevrolet Impala
Cosmetic Repair Job
BEFORE
AFTER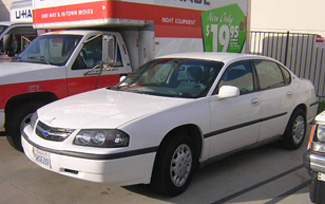 (800)-679-4848
Cosmetic Example 2: Rear End Damage
Suppose you were rear ended and your trunk is dented and your rear lights are broken. You can't drive your car like that, it isn't safe and it doesn't look good either, plus to do a complete conventional repair is too costly for the value.
Result:
A Cosmetic repair would replace your lights as inexpensive as possible and straighten your trunk lid so it will fit, open and close without paint or body work. The cost result is that you would have spent about 1/3 of what it would cost to do a Conventional Repair. We will Cosmetically' make your car look good again, your tail lights have been replaced and working, you're out the door FAST, sometimes within hours, and we save you a LOT of MONEY over a complete conventioal repair!
Cosmetic Example 3: Wind caught the Door

Spend $1000 or more to repair the door, the fender and repaint, or we can do a Cosmetic Repair for less than $250!
Result:
You now have $750 in your Pocket!
Auto Body Unlimited Inc.'s brand new Cosmetic
Damage repair solution that is designed specifically for those customers who:

Need YOUR Car running safely NOW!

Don't want to spend more on repairs than the car's Value, but still want it to look good!

Call or email us Today and tell us your case for a Personalized Diagnosis from Dr. Jay!
ABU works on Cars, Vans, Trucks, SUV's, Sports Cars, Classic Cars, Luxury Cars, Motorhomes,
RV's and Medium Duty Commercial Trucks!

*Note: Most conventional auto body and collision repair shops won't even touch a cosmetic type job, they require the entire car painted for just one part of damage!

Auto Body Unlimited Inc can fix the fender. the panel, bumper, hood, top, door or doors, grill lights or safety parts only without painting the entire car! 'Saftey Only Repair' is just another cost saving, affordable, low cost Service Solution that makes Auto Body Unlimited Inc. 'different'!
"The Crash Doctor"
(800)-679-4848

Remember, The Crash Doctor, ABU, Inc., works on all makes all models of automobiles, cars, trucks, vans, suv's, classic cars, sports cars, luxury cars, motorhomes, winnebagos, RV's recreational vehicles, even motorcycles.