'Dr. Jay'

Hot News!
We're out to be Southern California's #1 Corvette Paint and Body Center!!

'Call or Stop by and visit the 'Doc' for a FREE Paint Quote!

Complete Corvette Collision Repair
Including:
*Fiberglass Repair

*Collision Repair

*Windshield Pillar Repair

*Expert Body Preparation

*Bumper Re-Chroming

*Convertible Top Installation

*Windshield Installation

*Valve Cover Polishing

*Catalytic Convertors Exhaust

*Frame/Chassis Repair

*Alignments

*Windshield Installation
Interior
*Door Panel- Window Repair
*Air Conditioning Service
*Weatherstrip Replacement
Accessories for
your Corvette
*Custom Pinstripes
*Car Covers
*Convertible Tops
*Custom Wheels Tire Replacement
*T-Top Bags
*Custom Floor Mats
*Custom Exhaust Tips & Bezels
Auto Body Unlimited Inc. is an authorized Enterprise Rental Car dealer.





Book your Enterprise Car rental directly from Jay at Auto Body Unlimited Inc.

*Ask about our FREE Loan Car Program!

Financing Insurance Deductibles!

Don't forget to ask us about financing your auto insurance deductible...
100% interest Free!


Auto Body Unlimited Inc., 'The Crash Doctor' is here to help you serving:
Simi Valley, Canoga Park, Granada Hills, Chatsworth, Thousand Oaks, Woodland Hills, San Fernando Valley, Westlake, Mission Hills areas and beyond!


Auto Body Unlimited Inc. Accepts all Major Credit and Debit Cards
1968 Corvette Classic Collision and, fiberglass repair and paint -
Watch the Video!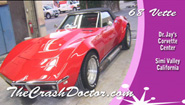 *NEW!
1975 Corvette
Collision and, fiberglass and paint color matching repair -
customer Testimonial-
Watch the Video!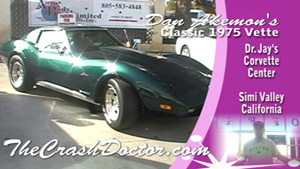 Watch this Rare 2010 Grand Sport Corvette Front end repair and paint Review


Watch the New Corvette Frame Repair - 'GlobalVizion' Video


Dr. Jay corrects Frame damage





Click on Photo to Watch Video





Angelyne's Trust Doc Jay with her Pink Corvettes



Angelyne's 2008 Pink Corvette painted
by The Crash Doctor 'Dr. Jay' -*See the
Angelyne's Testimonial and the Before and After Photos of her 2004
and her New 2008 Pink Corvette!

Now Southern California Corvette Owners have an I-Car Gold specilists place for their Vettes!

It doesn't get any 'Vetter!'
ABU and Vettes - the perfect combo!
Corvettes are in a Class all by themselves and so is
Auto Body Unlimited, Inc. 'Your I-CAR Gold' Center

Watch a Review from Chris Reese on Dr. Jay's Repair Work on his 07 Vette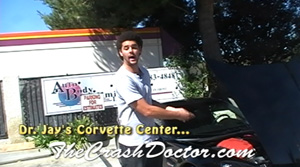 Chris Reese above standing by his 2007 Corvette Z06 took his car to 3 dealers after if was repaired incorrectly by another body shop before taking it to The Crash Doctor. Corvette owners all over are making Auto body Unlimited Inc the Corvette Center to go to.

Auto Body Review - Testimonial
Hi Jay,
"Just wanted to take a few minutes and say thanks to you and your team.
What could have been a real headache for me turned out being resolved
with very little effort on my part. When I brought the car in I was very concerned about the paint matching the rest of the car as I had heard it
was difficult to get a match on this color. My concerns were unfounded; the match looks as good as the original. The attention to detail your team
showed on getting my repair completed was much more than I expected
and the speed which you turned the car around was surprising."
Thanks again for a great job,
Robert Noorigian - 2000 Corvette

Owner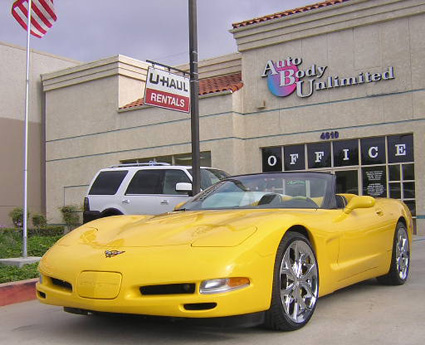 Corvettes top the list of the Finest Sports Cars on the road, and Auto Body Unlimited Inc., 'The Crash Doctor', tops the list of the Finest Auto Body Paint and Refinishing Centers in Southern California. Dr. Jay and his trained technicians take no short cuts on perfection and performance. Our combined experience in body work, custom paint, service, fabrication, engineering and design means you get Top Quality work for your prized Vette.

Auto Body Unlimited Inc. is dedicated in giving our customers the finest service and highest quality workmanship that you can imagine. Whether you need preventative maintenance, accident repairs or insurance estimates, paint or body work, or even that hard to find part for your Corvette, we can help you. No job is too big or too small. .

From Collision to Cosmetic Paint and Repair for 'Vettes!'
Before - Actual Customers 2000 Corvette Convertible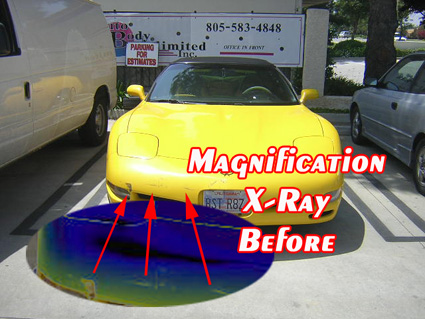 If you have a tear in your interior we can make it right. We replace glass, convertible tops, and anything else that goes wrong. Have a cracked windshield or leaking weatherstrips on your Corvette body or convertible top? We repair those as well. We install complete convertible tops too, keeping your corvette looking great! Your Corvette will receive the care and concern you'll enjoy from Auto Body Unlimited, Inc.

After - Actual Customers 2000 Corvette Convertible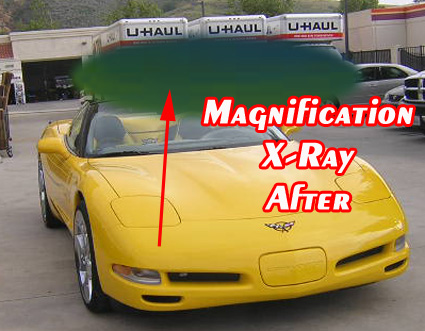 Fiberglass vehicles should only be repaired by body shops that know about fiberglass. Dr. Jay's technicians understand the importance of accurate body work, body lines, and repair and preparation of the Corvette body prior to primer and paint. Using only the best in materials and the finest paint technologies from Akzo Nobel, our certified technicians refinish your Corvette in base coat / clear coat urethane only after the body has been expertly prepared. Plus, through Akzo Nobel-Sikkens you get a Lifetime Warranty!
Using a combination of old world craftsmanship and modern world equipment and paint techniques, we are able to do any repair from structural to cosmetic.
'Detailed' Attention to your Corvette!
How many times have you taken your Corvette into the shop for either a mechanic repair or body paint and repair. The shop finished their work on the job you took it in for but when you get your Vette back, you see they didn't touch the engine or interior, it still looks the same, same dirt and dust and even more so as your Vette was open in the shop area and collected even more dirt, dust and maybe even worse, some paint spray, all that was left untouched by the shop.

Before - Actual Customers 2000 Corvette Convertilbe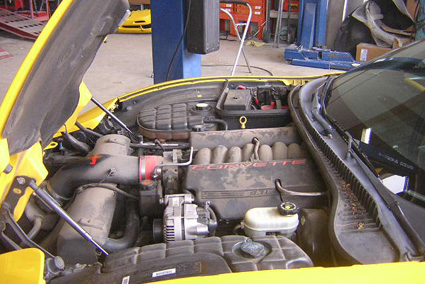 Well, Dr.Jay has a different approach. The 'Doc' wants your Vette to look like new again and pays attention to small details, not just the main work you brought it in for. Dr. Jay wants your Vette business and he'll prove it!

After - Actual Customers 2000 Corvette Convertilbe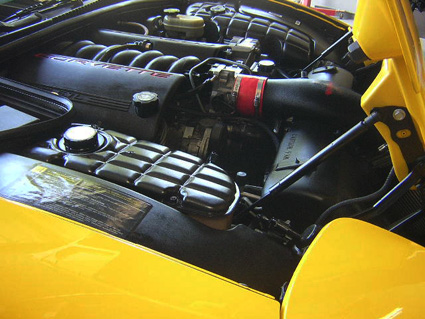 | | |
| --- | --- |
| | |
We treat Your 'Vette' like it was 'Ours!'
We realize that most Corvette owners have been Vette owners for decades, once a Vette owner, always a Vette owner. We never use customer's cars for personal use, ie; ever been near a dealership at lunch time and seen guys driving customers' cars? Our shop is always open for customers to see. You can visit your car at any time and see the progress being done on your car. We'll save replaced parts, at your request, and return them to you.
Custom Cameleon Award Winning 1982 Corvette from 'Dr. Jay'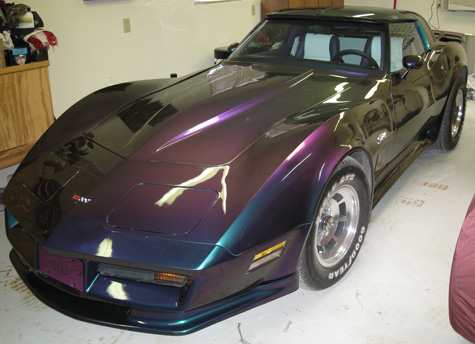 *See Review-Testimonial story and additional photos to the right>
Corvette owners are very particular about their 'Vettes!' You have your own Corvette Car Clubs, your own Forums, your own T-Shirts, Hats and Clothing line, and very specific Locations where you take and refer your business to. Now you can bring your Vette to an

I-CAR Gold

Class Body Shop -
Serving Simi Valley, Chatsworth, Granada Hills, Woodland Hills, Westlake Village, Sun Valley, San Fernando Valley and all of Sourthern California!
Little Corvette History from the Professor
'Dr. Jay'
Auto Body Unlimited Inc.



1953 Corvette




The 1st Corvette.
Introduced in 1953, the Corvette was basically built as an experiment. Production was limited to 300 units total, so sales of the entirely new model was not a problem. Rumor has it that the first 15 cars were built, all by hand, in the back of a customer delivery garage in Flint Michigan. Of the first 300 Corvettes, only a little over 200 are known to exist today.



1966 Corvette



Big Block 427 engines were introduced. Corvette's answer to the new Muscle car era. Big block engines dominated the Corvette story for 1966.




1968 Mako Shark II



A new body style change took place
The quote from the 1968 Chevrolet Corvette brochure, "All Different, All Over" made a bodl statement. The 1968 would reinforce that reputation with an all new body style for the next 40 years.




1984 Corvette



The next new official production line and the Technical Flagship of the GM line. Body Style change. The C3 Corvette was an unqualified success. The public liked this new Corvette design so much it raised the sales volume to the 40,000 / year level in six of the last seven years of production.




1997 Corvette



The next new Body Style change. The C5 was introduced in 1997. The 97 Vette was an entirely new car; more so than any other Corvette generation in that all major elements - the drivetrain, the chassis and the body - had not appeared before.




2005 Corvette



Then next or 6th generation Body Style change. In 2005, things started to change rapidly in the automotive world. The benefits of computer aided design had been realized and product cycles were much shorter. While the C4 Corvette had been on the market for 14 years (1983 - 1996) the C5 was alive for only eight, from 1997 to 2004. The high performance sports car segment is moving rapidly and staying ahead of the pack was the key to success for Corvette




2008 Corvette





The big news for 2008 Vette was under the hood: The powerful new Engine increased to 6.2 liters (376 cubic inches) via a bore increase. Output was upped to 430 hp (424 lb.-ft. torque) and a new engine designation - LS3 something previously only obtainable from the older 427 bog blocks as with the 1966 Stingray editions.





1982 Award Winning Vette
'Job Well Done!'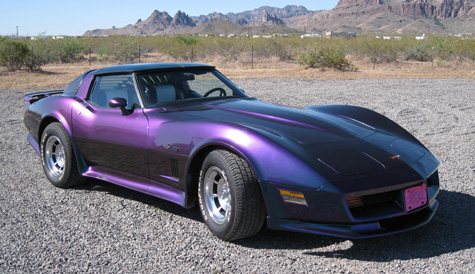 "Jay I thought I would let you know that thanks to Auto Body Unlimited not only my goal to own a Show Quality Corvette was achieved, what a beautiful car you created now I have one of the very best in shows.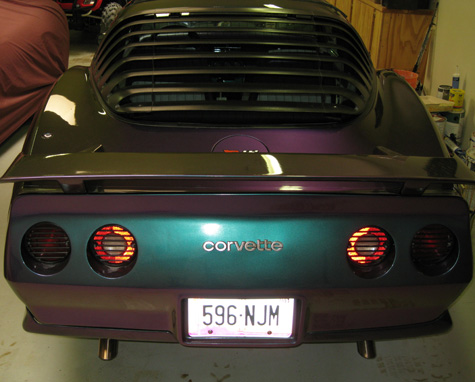 I have won in everyone of the 9 different shows I entered it in, I also won two 1st Places with best in paint. My best award was in the "All Corvette Show" over 1,500 corvette only completed your expertise in body restyling was admired by Corvette Owners and the 4 Judges as the 1982 was Judged with hood open.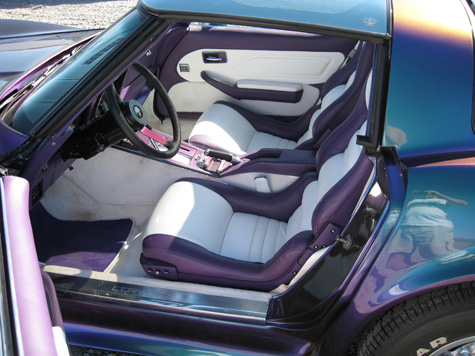 I can't say enough about what a great job your team did and I do tell everyone that ask AUTO BODY UNLIMITED is were is was done.

The Corvette is now in Arizona where the 2008 "Route 66 Run & Car Show" was held in Kingman Az. this 1982 was voted best in show and also 1st Place in it class 1976 / 1982 .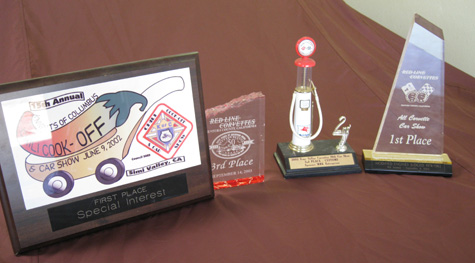 This is a show car that anyone would be proud to own, so many thanks to you and the team at A.B.U. I can't say enough good things about how my dream show car came out of there. It has been Judged by the Best of the Best and wins every time."

Many Thanks
Larry Cotton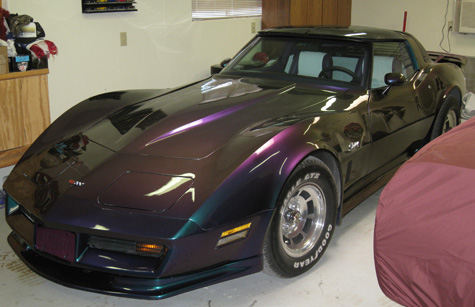 1978 Classic
Corvette Complete Paint Video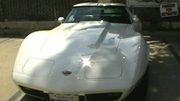 1975 Corvette
Collision and, fiberglass repair and paint - Watch the Video!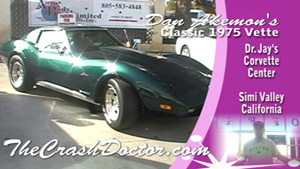 1994 and 2008 Corvette Fiberglass
and Paint FInish Video Review!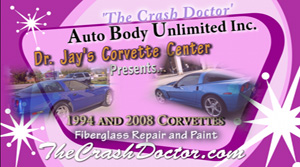 Watch a unique Classic 1960 Vette Paint and Restortion Review!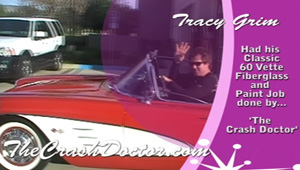 Watch this
Classic
1968 Corvette theft, collision
and fiberglass repair and paint job video from
Dr. Jay's Vette Center!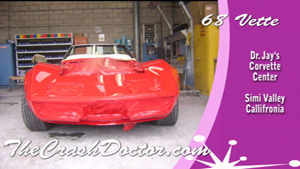 Custom Colors and New Cameleon Look for your Corvette!
Bring Dr. Jay your Vette, he'll do the rest
.
From complete Collision to Cosmetic and Paint Refinishes

We also do complete Interior work and will detail your Corvette for you! Even if you need a complete Paint Refinish give us a call and we'll go over what you want detail by detail.

Does the paint on your Corvette look faded and look like new, and give it a better exhaut system, does your interior need a complete physical?

Is it time to re-paint your Corvette, want to make it look like new, have Dr. Jay give your Vette an Award Winning Paint Job!

Then bring your Vette to Doc Jay!

He'll get your Corvette
feeling with some new suspension, new premium sound, interior and a new
paint your Vette can be again an 'Eye Catcher!'


Auto Body Unlimited Inc.,
'The Crash Doctor'
is also an
I-CAR Gold Shop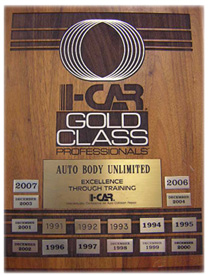 I-Car Gold Class
Continuously since 1991
Need a Replacement for your damaged side view mirrors at a fraction of dealers' prices, or upgrade with a set of paintable, custom mirrors. Contact the 'Doc'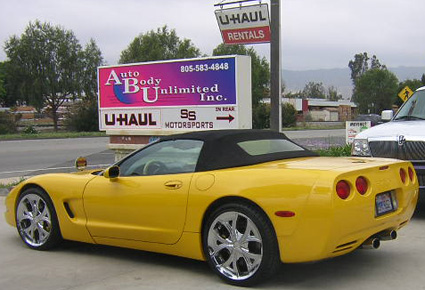 Keep your Corvette Stock if you like or add some new custom kits. Either way, call us now and tell us what you want..

Simi Valley Chamber Member
since 1986
Locations - If you live on Earth, we're not too far away!

No matter where you live, feel free to contact us. We have received calls from all over the state for our service. We service all of California. Why you could even drive your car to us and fly back. When it's done, fly back out and have a blast driving your new exotic car back home. We service Simi Valley, San Fernando Valley, Northridge, Granada Hills, Woodland Hills, Chatsworth, Studio City, Universal City, San Diego, Westlake Village and beyond.

To us, every Corvette is a car worth owning and preserving. We take great pride in providing the highest quality workmanship and Finest paint finishes for your Corvette." If you're in the neighborhood, drop by and say hello
Give us a call today and tell us what you are looking for, you'll be glad you did!
"Set your corvette apart from the other corvettes on the road or at the shows and bring it to Dr. Jay your I-Car Gold Class Paint and Body Shop. We want to be your main source for your Corvetter's needs!"


Call Dr. Jay now and see what he can do for your prized Corvette!

805.583.4848