Aptera - All Electric Car



The Aptera was developed originally as an All Electric car, it's body styling, interior design and engineering all play into maximizing efficiency with the lightweight composite body. The stated Price for the all-electric version: $26,900, and for the plug-in hybrid: $29,900. The Aptera is currently only being sold in California, although plans to expand are in the works. The Aptera Production is slated for late 2008.
Myers Motors — NmG (No more Gas)

A 3 wheel car with only room for one passenger. Looks a little bit like some sort of Fruit, while it doesn't go far, you can apparantly order one now.
Fuel type: All-electric
Price: $35K
Range / top speed: 30 miles / 75mph
Release date: Available now
Hybrid Car - Honda Insight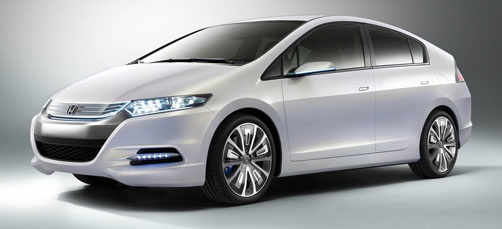 Part Gas - Part Electric car. In North America. Honda is aiming for affordability with the new Insight, which is expected to sell for approximately $19,000—several thousand dollars below the Honda Civic Hybrid and Toyota Prius. At the same time, the new hybrid is expected to match or beat the fuel economy of those vehicles.
Eliica (The Electric Lithium-Ion Car)


The Elica is a concept car created by Keio University in Japan. While the Elica has a strange eight-wheel design and has come close to breaking speed records for combustion-engine cars. The team plans to sell a couple hundred eventually.
Fuel type: All-electric
Price: $255K
Range / top speed: TBA / 230mph