As an I-Car Gold auto body shop, Auto Body Unlimited Inc. is your Premiere shop for any type of unibody, body work or custom paint job and that is regardless of the type of drive train a vehicle has.

This 1971 Lotus was brought in to The Crash Doctor for body work and paint. The owner is customizing this Lotus as an All Electric vehicle. The intent is to make the Lotus capable of driving 30 miles as a to and from work car.

Doc did the body and paint work repainting the car from black to yellow. The customer took the car after it was finished and is installing the all electric motor.
1971 Lotus Electric Car - Custom Body - Paint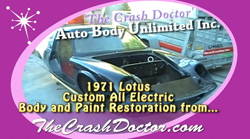 Before and After video shows the Premium High
Quality work performed by The Crash Doctor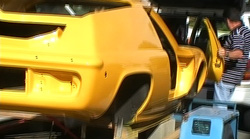 1971 Lotus All Electric Custom Car
Paint Job Video by Dr. Jay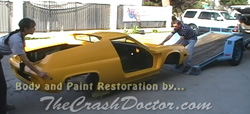 The Crash Doctor is becoming one of the top
auto body shops in California for all types of
vehicles, ranging from Luxury cars, Corvettes,
Hot Rods and Muscle Cars to Economy,
Hybrids, Electric cars and Mothorhomes, RV's
and Light Medium Duty Commercial Trucks.