This 2003 Honda Accord was a collision repair and Custom Body Kit Installation by Dr. Jay.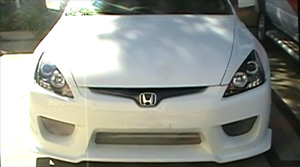 Doc Jay personally supervises all stages of the custom body kit installations and welcomes you to bring in your own body kit. If you would like to see if you can beat your own Body Kit quote for the Kit, just call Dr. Jay and he'll see what he can do for you!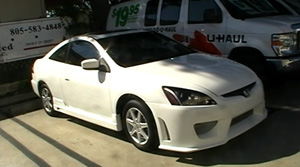 .
Car Clubs and Car enthusiasts alike are looking to Auto Body Unlimited Inc. as the 'Place to Go' for their specialty car work.. Dr. Jay not only does complete paint jobs and restorations but also corrects frame and unibody damage to bring these specialy cars back to showroom and car contest condition.

If you're a member of any car club, spread the word around and send your friends to Dr. Jay's web site where you can watch Videos on some of his special jobs.

*Note: Dr. Jay uses only the highest quality primers and paints on his Complete Paint Jobs!
Paul Lim brought in his 2003 Honda Accord to Dr. Jay for a Special Custom Kit Installation


Watch the Video and Full Review!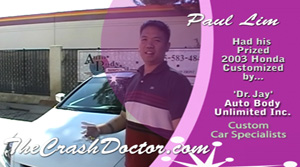 ..."I came here to see Jay after an accident and he helped me to get what I wanted, he was really helpful and professional!"

-


Paul Lim

-

North Hills, CA




This 2003 Honda required the Replacement
and Intallation of the following:

SIDE SKIRTS
Refinish SIDE SKIRTS
Clear Coat
COLOR SAND & BUFF
Side Supports
Bumper Assembly and Fillers
Upper Support
Headlamps and Headlamp Assembly
Front Fender and Assembly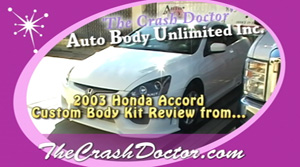 This 2003 Honda looks like it was customized from the Factory after leaving Auto Body Unlimited Inc. Trust your Body Kit Installations to the Expert - Doc Jay, "The Crash Doctor!"
.

2006 Corvette Collision Repair
This 2006 Vette had frame damage and required a lot of collision repair and high quality painting to bring it back to showroom condition. Watch how Auto Body Unlimited Inc.and Dr. Jay brought this 06 Vette back to like new condition again!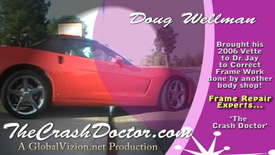 Auto Body Unlimited Inc. is fast becoming the Corvette and Classic Center for all of
Southern California.

Contact Dr. Jay personally!
(800)
679-4848
Classic 1968 Chevy Corvette

This Classic 1968 Chevy Corvette was recovered after a theft and had extensive collision damage. The Fiberglass work took pains taking efforts by Doc Jay, inside and out, to bring it to Showroom Condition.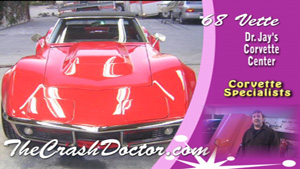 Auto Body Unlimited Inc., "The Crash Doctor" is becoming California's leading Corvetter Paint and Repair Center!