This 1968 Pontiac GTO classic was brought back to Showroom Condition by Dr. Jay. It required a complete paint job to correct some previously bad bondo work.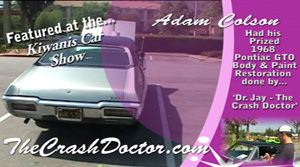 Doc Jay personally supervised all stages of the complete paint preparation procedures and uses only the highest quality paints and forumlas on his restoration jobs.

.
Car Clubs, Classic Car owners, Muscle Cars and Corvette Owners alike are flocking to Auto Body Unlimited Inc. for a variety of needs. Dr. Jay not only does complete paint jobs and restorations but also corrects frame and unibody damage to bring these specialy cars back to showroom and car contest condition.

If you're a member of any car club, spread the word around and send your friends to Dr. Jay's web site where you can watch Videos on some of his special jobs.


*Note: Dr. Jay uses only the highest quality primers and paints on his Complete Paint Jobs!

Classic 1968 GTO Restoration paint job
Featured at the 2010 Kiwanis Car Show!
Watch the Video and Full Review!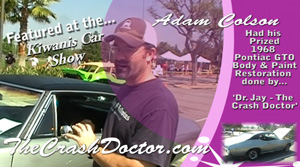 Adam Colson from Simi Valley, CA, brought his 1968 GTO into Jay for a restoration and complete paint job. The GTO had collision damage and required a complete paint job all around. Dr. Jay brought this 68 GTO to contest condition and it was featured in the 2010 Kiwanis Kruzin Kar Show.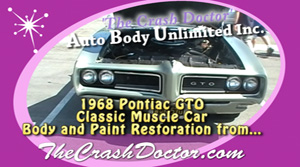 This Classic GTO looked better than when it was brand new after leaving Doc Jay's famous paint shop
.

2006 Corvette Collision Repair
This 2006 Vette had frame damage and required a lot of collision repair and high quality painting to bring it back to showroom condition. Watch how
Auto Body Unlimited Inc.and Dr. Jay brought this 06 Vette back to like new condition again!