Dr. Jay has been serviing Major Commercial Fleet businesses for collision repair and paint needs for Fleet Vehicles with makes and models of all kinds. As one of only 2 consecutive 20 year I-Car Gold Body Shops in the United States Auto Body Unlimited Inc 'The Crash Doctor' is the one to see!

This 2013 Taurus Fleet vehicle was in a front end collision with driver air bag deployment. The Ford had extensive damage some of which was only visible after a precise tear down. See the 3 Before Photos that show the exact condition the Taurus was in when before repairs. The amount of damage was not noticeable.

HIDDEN DAMAGE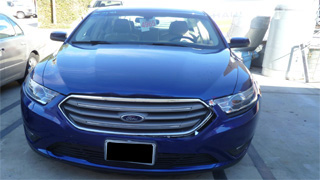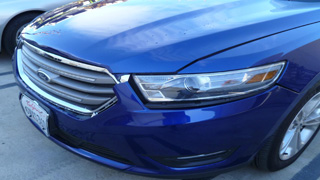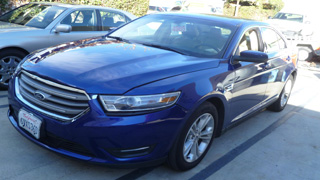 Looks can be Deceiving!
The Above 3 photos are an excellent example of damage that is not noticeable. The damage sustained by this 2013 Taurus was enough to set off the air bag and cause frame damage that required correction by Dr. Jay.. Watch the VIdeo to see the start to finish repair in much more detail.

The Crash doctor had to replace all damaged parts after repairing all the structural damage to the front frame rail and aprons.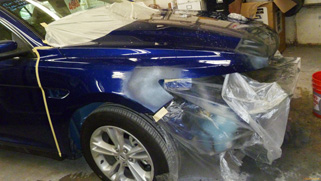 The front end of this Taurus involved considerable removal and repair of parts and color matching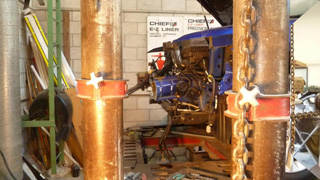 Unibody and Frame Importance
On Front end damage Dr. Jay always inspects the Unibody system for any frame damage, a major safety issue for all collision jobs.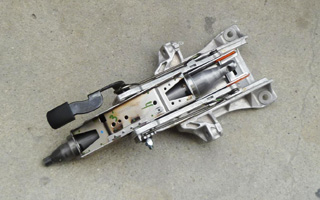 This 2013 Taurus rquired the removal of the steering column to allow for the replacement of the Air Bag

_____________________




Dr. Jay brought this 2013 Ford
Taurus Commercial Fleet collision repair with air bag replacment and paint back to showroom looking new condition again.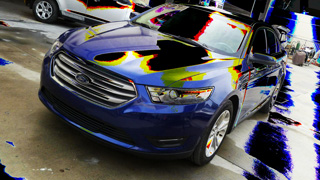 When Dr. Jay gets done with his repairs and paint it would be hard pressed to discern between a repaired damaged car and one that came off the Showroom Floor.
__________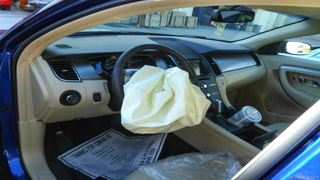 Air Bag Replacement and Installation
Once the Air Bag has been set off it is necessary to instal
a brand new unit and this requires precision work. When Air Bags go off they are an explosion, unlike the false views you may have seen on some TV ads where the babg looks soft and fluffy. The Air Bag discharge expplsion can cause considerable damage at times.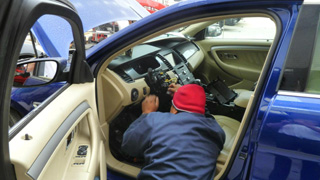 Dr. Jay's highly skilled technicians inspect and repair every aspect of the intricate steering wheel Air Bag replacement work to ensure it's accurate function.

For Fast, Reliable and High Quality Collision Repair and Paint needs bring
Fleet work to Dr. Jay

_______________


Just some of the Repair and Specialized Paint work required on this 2013 Taurus Fleet Job included:

Front Bumper

Grille

Radiator and Support

Front Lamps

Steering Column

Air Bag

Left and Right Impact Sensor

Hood

Right Fender

Pull Front Sway

Left and Right Fender Grille and Liners

Disconnect and Reset Electronics

Color Sand and Buff

Clear Coat

and much more!
Commercial Fleet Accounts




PHH Arvil
Collision Experts Inc, Wheels Inc
LeasePlan USA
L'Oreal
Mary Kay Cosmetics
Avon
Donlen
Innovation Auto
Fleet Response
ARI
Dutton Plumbing
Road Bear RV
GSA
and More!

Corporate Client Jobs service both Local and Major Corporations such as:

McDonalds
Glaxosmithkine
Mary Kay
Salvation Army,
Alcon
Carl jr.
Iron Mountain

Fleet Vehicle Jobs include:

* Delivery Cars - Vans - Trucks

* RV's and Motorhomes

* Commercial Companies

* Commercial Enterprises

* California Car Clubs




If your Company would like to discuss having Auto Body Unlimited Inc. take care of your Fleet Business, give Dr. Jay a call Direct.

(800) 679-4848



Dr. Jay has a Long Standing History of Award Winning Restorations and Paint Jobs!

Check out this Award Winning Mercedes that has Won Numerous Car Show Awards
Classic European Mercedes Benz Video

Watch the video on Frank Pecarich's Auto Show Award Winning 67 Mercedes 250SE
Restored by Dr. Jay

(800) 679-4848


4610 E. Los Angeles Ave. Simi Valley, CA 93063