This 2004 Damon 35 foot Motorhome was brought into Dr. Jay for repairs on cracks, tears, dents and body and paint damage.

Necessary parts were removed and carefully prepped, treated, damage corrected or replaced and painted by skilled technicians and painters.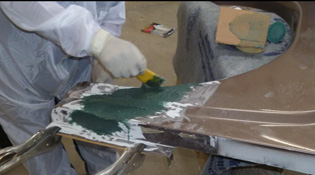 Color Match and Blending was used to to carefully and skillfully belnd in side panel damage repairs so they look like it came from the showroom floor.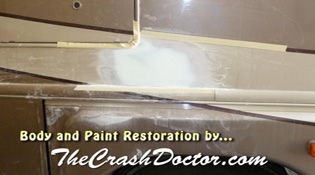 RV's and Motorhomes require special bays and experience to be able to do the correct restoration and repair the damages and pin stripings that occur in various parts, both top and lower panels.

Jay has ability to acquire the necessary and sometime hard to find, parts for all RV and Motorhomes he performs work on, so you rarely have to wait long to get your RV or Motorhome back once you bring it in for repairs from Dr. Jay. Jay normally has the entire job done in a matter of days.


The Crash Doctor is the Premiere Auto Body Collision Repair Center in the Simi Valley area, contact Dr. Jay today and bring your Truck into The Crash Doctor for a Check up!

(800) 679-4848


4610 E. Los Angeles Ave. Simi Valley, CA 93063



Watch the 2004 Damon Intruder
35 foot Motorhome Repair
and Paint Video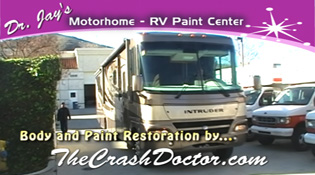 Auto Body Unlimited Inc. had to do precise color blend and matching and add new clear coat on various sections of this large thirty five foot Motorhome.
__________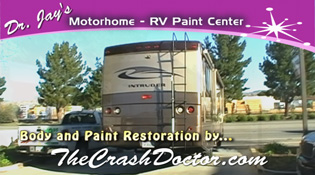 The 'end' result, a damaged motorhome that looks brand new once again.



Repair and Painting Included:


Left and Right Rear Panels

Rear Horizontal Molding

Left Fender

Moldings

Removed and installed Brake LIght and Reflectors

Color Match and Blend 3 Colors

Color Sand and Buff


Clear Coat

and More!

This 35 foot Motorhome got special attention from Dr. Jay's skilled RV and Motorhome painters and technicians!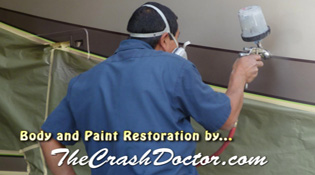 Careful attention was made to ensure that the factory pinstriping was restored to perfection.

Auto Body Unlimited Inc.has all the room necessary to do repairs and partial paint jobs on all sizes of Motorhomes and Recreatioanl Vehicles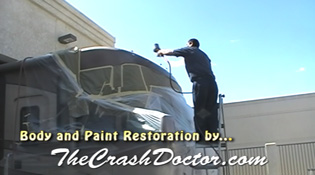 The Crash Doctor 'Doc Jay', only uses the finest high quality paints and technology in all of his Repairs and Classic Restoration jobs alike.
If you're looking for a one-stop RV or Motorhome body shop from anywhere in Southern California, then come to Dr. Jay's Auto Body Unlimited Inc
'The Crash Doctor!'.

Call Dr. Jay Today for any of your RV, Motorhome or medium duty commercial truck repair and paint needs!

Dr. Jay services all kinds of Fleet and Commercial Trucks. Now we can repair that fender on your utility trucks, box trucks, and motor homes that use aluminum siding and for the structure and save substantial money.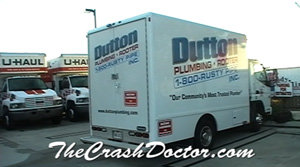 (800) 679-4848