Auto Body Unlimited Simi Valley services Thousand Oaks SUV's, You're Never Too Far!
Leo Ramirez of Thousand Oaks, CA, passed by many auto body shops along his way to Auto Body Unlimited in Simi Valley to bring his 12 Sequoia in for a Complete Paint Refinish... and it was Worth It!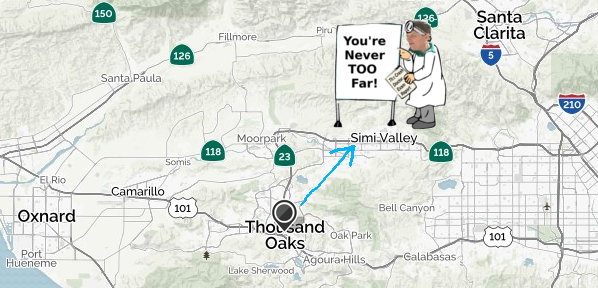 Leo from Thousand Oaks California, brought his 2012 Toyota SUV to Dr. Jay, Auto Body Unlimited 'The Crash Doctor', after his paint job was ruined by excessive buffing, a tip for all car owners not to do. Dr. Jay gave Leo's Sequoia a complete Paint Refinish to his SUV back to 'Make His SUV Great Again!'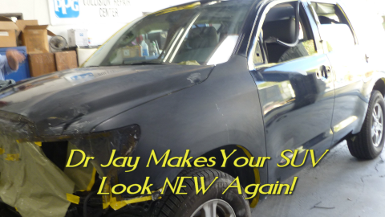 The main work was a Complete Paint Refinish due to Overbuffing on Leo's SUV


Complete Paint Job Affordable Options!
Dr. Jay has a large variety of Options for owners who want to increase the value of their used automobile. Everything from, you doing some of the work yourself to Dr. Jay's Award Winning Premiere Prime Paint Jobs. Dr. Jay offers Financing Plans to get you started right away and some really good Affordable pricing.

Ask Dr. Jay about a Custom Pricing for YOUR Custom Requirement!



IMPORTANT Tip from Dr. Jay!




Do Not Wax Your Car for at Least 4 Weeks After a Paint Job!



Buffing can ruin a paint job, you want only experienced professionals to detail your newly painted auto, especially with regards to color sanding and buffing.
See how Dr. Jay can




Make YOUR SUV 'Great Again!



"Auto Body Unlimited Opens Earlier and Closes Later than Most other Body Shops"
Mon - Fri 8:00am to 5:30pm
Open Some Saturdays - call first




Dr. Jay Auto Body Unlimited, 'The Crash Doctor, America's body repair and paint Center. When you're on vacation in Califoria or if you live here, a trip to see Dr. Jay will get your auto looking like Brand New Again and Dr. Jay usually gets you in and out in a very fast but smooth time frame, especially when hard to locate parts are not a problem!
Contact Dr. Jay Today!

Important on Insurance Rates and Claims

Insurance rates are based on chargable claims not on 'not at fault' claims. In other words the only way your insurance rates can go up is if you're at fault, also you have the right to use any body shop of your choice, not where your insurance company refers you to.
Auto Body Unlimited
'The Crash Doctor'
Your One-Stop Commercial and Corporate Fleet Repair Center

Dr. Jay personally Welcomes all Corporate Firms with a fleet of service vehicles, from Sales Cars to Medium Duty Service Trucks to contact Dr. Jay today to see how your company can benefit from using Dr. Jay..