VIP CARD
Benefits Include:
Express VIP Service -


We'll match repair dates, pick-up and delivery of your vehicle according to your schedule.Damage

Appraisal Appointments -
We'll set appointments that are most convenient for you or simply leave your vehicle.Valet Pick-Up and Delivery Service to and from work (20-mile radius).National Lifetime repair and refinish warranty at all Assured Performance repair shops.

VIP $50.00 Discount toward any repair over $500 (1 discount per membership)

VIP Discounts on Rental Car Rates,
and preferred customer priority service through Enterprise Rent-ACar. (discount off the best rate at all U.S. city and airport ocations)

Total Vehicle Loss Replacement Program no-hassle, no-haggle discount pricing. Use this vehicle purchasing program to get the best choices on used cars as well.

Nationwide Shop Locator (web access) and 800-number dispatch to a certified shop in your area.

Regular Newsletter Email Updates to keep you informed of critical issues on the on-going care of your vehicle,

VIP CARD

Annual Membership Cost
Only $99!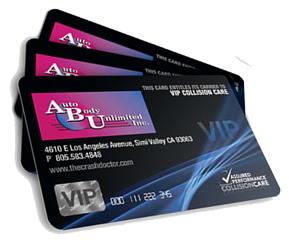 Annual Family Membership Cost
Only $199!

Includes VIP Care membership
for your entire immediate family
and all of your vehicles

VIP $50.00 Discount
on Any Repair, Glass Work, Paint Job
or Deductible
(1 discount per membership)

Special "Home for the Holidays"
The VIP Treatment from
Auto Body Unlimited Inc!
This Card Provides you with Special VIP Treatment and Peace of Mind.Auto Body Unlimited Inc. The Crash Doctor was Awarded the Eleite 20 Year I-CAR Gold Class Award. There are only 2 body shops in the country that have earned this honor.


The Crash Doctor has also been qualified
and certified by Assured Performance
Collision Care, a non-profit consumer
advocacy organization as one that meets the highest industry standards. You can rest assured that they have the proper tools, equipment, training and services that
provide a VIP Experience all backed by a lifetime warranty.Carry this VIP Card in your wallet, glove compartment or anywhere you
can access it should you ever need a collision repair.

With this Card comes Special
Discounts and Benefits all designed to ensure you have a VIP experience
including all of the special treatment you deserve.With your Membership and participation as a card-carrying Member of this Collision Care program, you can insist that your vehicle be taken to this certified repair center when you are in the immediate market area or another APN VIP certified collision repair
business if you are outside of the market area.


As a VIP you are also entitled to all of the
extra benefits, special treatment, and VIP care exclusively offered by this business and those offering VIP Collision Care across the United States.
Get Discounts on Car Rentals, Car Buying and other Auto Body Repair Services.