This Classic 1967 Chevy Camaro SS of Matt and Rose Chin was written off as a Complete Total job by other body shops and Insurance companies who refused to repair it. So who did the owners call? Dr. Jay!

Jay did this complete restoration and paint job for under $22,000

Doc Jay personally wrote this estimate examining all areas of the car and took specific measures to save this 'Cool Classic' from the 60's.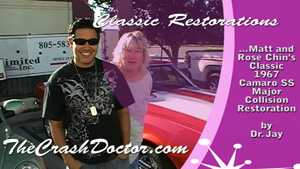 "Other body shops and insurance companies refused to try and save our Camaro but Dr. Jay did it"...
- Matt and Rose Chin


The Frame required extensive repair and alignment and was placed on the Chief Unibody equipment for accurate measurement and straightening
Chevy SS Camaro Major Damage Repair - Body - Paint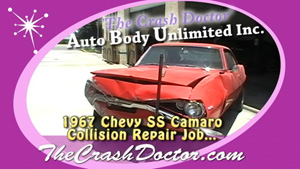 Doc Jay's Repair Video shows the process of his Premium High Quality collision and frame restoration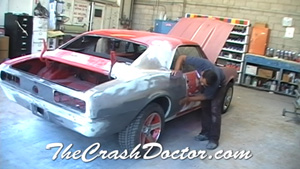 See the extensive process that included all panels being repaired and aligned, the frame damage repaired using the Chief EZ Liner accurate Frame and Unibody technology and the detail work of the classic stripes
and lines
This was a Major Collision. All panels had to be repaired and realigned, the Frame had major damage to it and a complete paint job was necessary to bring this car back to it's Classic condition showing the custom lines and striping.
SS Camaro Collision Repair Review!
Paint and Collision Repair Video by Dr. Jay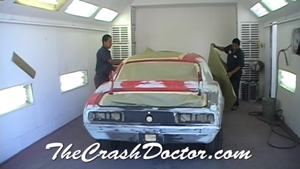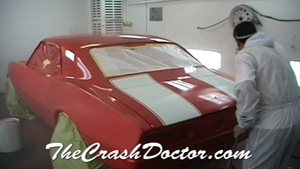 While other body shops and insurance companies gave up on this Classic Camaro, Dr. Jay and the insurance company worked to bring this SS Camaro to
Showroom Condition.
The Crash Doctor 'Doc Jay', only uses the finest high quality paints, technology and paint procedures on all Repair and Classic Restoration jobs.
Watch the Video to see the Repair Process!