Dr. Jay is fast becoming the California collision repair, paint and restoration center for European makes and models of all kinds. As one of only 2 I-Car Gold Body Shops in the United States Auto Body Unlimited Inc 'The Crash Doctor' is the one to see!

After Doc Jay analyzed the entire Jag XKE all necessary parts were removed and carefully prepped, treated, damage corrected or replaced and painted by skilled technicians and painters.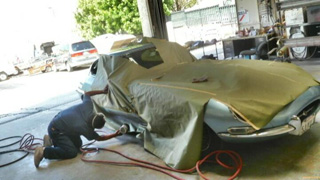 Color Match and Blending are used to to carefully and skillfully blend in side panel damage repairs necessary in order to return this Classic European Auto to it's Award Winning Restoration condition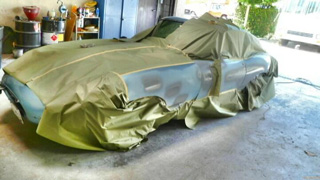 While many people are holding on to their used cars longer due to the economy they have found great benefit in bringing in their used cars and trucks to Dr. Jay for his prestigeous complete paint jobs to increase the resale values and owners of European classics are extremely intent on the increased values of their prized autos.
A smart move in this economy for all types of car owners..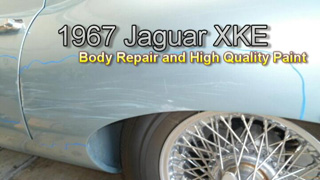 Just some of the Repair and Specialized Paint work required on Roger's 67 Jaguar included:

Left Door
Fenders
Left Rocker Panel
Wiper Arms
Roof
Rear Bumper Assembly
Right Quarter Panel and Glass
Rear Panel
Marker Lamp, Mirror and Moldings
Color Match
Color Sand and Buff
Clear Coat
and much more!










Roger McLaren was happy to see his English XKE Jaguar restored to Award winning condition after incurring body and paint damage.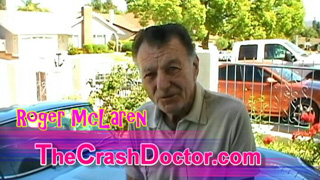 Auto Body Unlimited Inc. boasts a major player in the Corvette Fiberglass repair and paint area and European specialty cars are also an area of expertise Dr. Jay has.
__________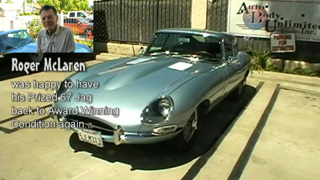 Roger's 67 Jag XKE was classified as a Series 1 manufactured model by Britain manufacturers.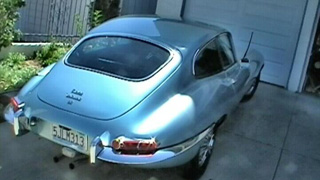 Dr. Jay is California's European Automobile body and paint repair and restoration Center.

Stay tuned for Dr. Jay's New Growing European Car Section.
_______________

Award Winning Classic European Mercedes Benz Video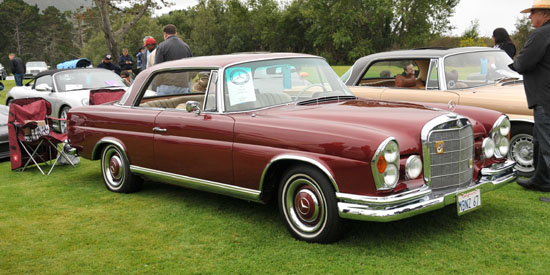 Watch the video on Frank Pecarich's Auto Show Award Winning 67 Mercedes 250SE

(800) 679-4848


4610 E. Los Angeles Ave. Simi Valley, CA 93063


European Auto owners can be as selective as Corvette owners when deciding where to take their prized autos to for repairs and painting. Dr. Jay is becoming the First Choice for all specialty cars in California, foreign and domestic!


Dr. Jay has specialized experience for all European automobile body repair and paint needs

_______________________

History and Background
1967 Classic English Jaguar XKE

The Jaguar E-Type (UK) or XK-E (US) is a British Roadster, manufactured by Jaguar between 1961 and 1974. Its combines good looks, high performance, and competitive pricing that established the marque as an icon of 1960s motoring. More than 70,000 E-Types were sold during its lifespan.



The Series 1 was introduced, initially for export only, in March 1961. The domestic market launch came four months later in July 1961.[10] The cars at this time used the triple SU carburetted 3.8 litre six-cylinder Jaguar XK6 engine from the XK150S. The first 300 cars built had flat floors and external hood (bonnet) latches. These cars are rare and more valuable. After that, the floors were dished to provide more leg room and the twin hood latches moved to inside the car. The 3.8-litre engine was increased to 4.2 litres in October 1964.[10]All E-Types featured independent coil spring rear suspension with torsion bar front ends, and four wheel disc brakes, in-board at the rear, all were power-assisted. Jaguar was one of the first vehicle manufacturers to equip cars with disc brakes as standard from the XK150 in 1958. The Series 1 can be recognised by glass-covered headlights (up to 1967), small "mouth" opening at the front, signal lights and tail-lights above bumpers and exhaust tips unde

r the number plate in the rear.

The Series 1 can be recognised by glass-covered headlights (up to 1967), small "mouth" opening at the front, signal lights and tail-lights above bumpers and exhaust tips under the number plate in the rear.


Contact Dr. Jay today for all of your European specialty car needs


(800) 679-4848