This 1966 Classic Ford Mustang custom paint job was brought in when the owner was not satisfied with the previous paint job.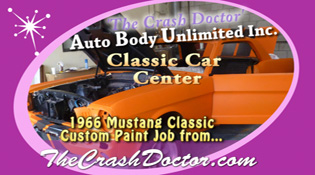 This is how the Mustang was brought in.There were numerous places on the sides, hood and trunk that required some body work as well. All of this prep work was performed before Dr. Jay applied his classic car paint job.


Dr. Jay is an expert at restoring Classic Automobiles for that Award Winning Show look.

Even though the Mustang was completely painted when it was brought into Dr. Jay, it had to be sanded and primed as necessary to get the surfaces properly prepared to paint. You can't just paint over an existing paint job and get that Classic Car appearance.

Doc Jay personally oversees all areas from prep to final finish with special detail to all procedures in between.




Watch the Classic 1966 Mustang Custom Paint re-do Video!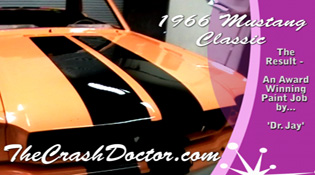 Auto Body Unlimited Inc. did a complete paint job on this classic mustang and the owner wanted to reassemble the car himself.
Mustang History Brief
First Generation Mustang (1964½–1973)

The first-generation Ford Mustang is the original pony car, manufactured by Ford Motor Company from 1964 until 1973. It was initially introduced as a hardtop and convertible with the fastback version put on sale the following year. At the time of its introduction, the Mustang, sharing its underpinnings with the Falcon, was slotted into a compact car segment.With each revision, the Mustang saw an increase in overall dimensions and in engine power.

By 1969 the Muscle Car race was on and Ford offered a 351, 428 Cobra jet and other performance engines available in most models and often ordered with the Fastback and Mach One cars. The '69 Boss 302 and Shelby (available since 1965) were specialty Mustangs offered with both high performance engines and race-breed suspensions. After an initial surge, sales were steadily declining and Ford began working on a new generation Mustang. When the oil crisis hit in 1973, Ford was prepared, having already designed the smaller Mustang II. This car had no common components with preceding models.



This Mustang was completely re-painted
by Dr. Jay when the owner was not happy with the previous paint job.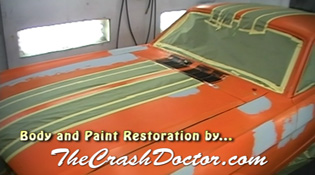 The Mustang in the middle stage of the paint job.

Auto Body Unlimited Inc. is fast becoming the most popular Classic Truck Restoration and Paint Center in California. Geoff and Barbara's Classic Ford is an example of what you can do with your classic sitting in your yard.
The Crash Doctor 'Doc Jay', only uses the finest high quality paints, technology and fiberglasst procedures on all Corvette Repairs and Classic Restoration jobs.