These two 40 foot Monaco Motorhomes required Dent and Damage repair with special color matching and blending techniques from Dr. Jay to bring them back to showroom looking condition again! Watch the video and hear an owner's Review!

2005 Monaco Gazelle 40 Foot Motorhome damage repair and paint.

The below three photos of the Gazelle was damaged when a large coyote hit the passenger front lower panel and required Paint and Repair by Dr. Jay!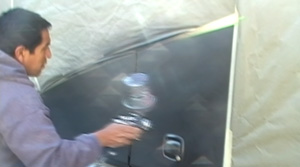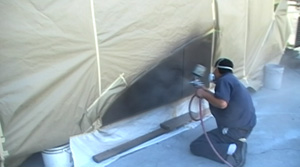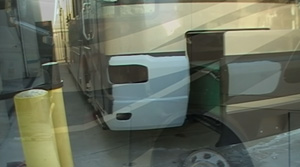 High quality Motorhome repairs and paint are a specialty and Auto Body Unlimited Inc provides it..



2008 Monaco Knight 40 Foot Motorhome
Side Damage Paint and Repair Video Review!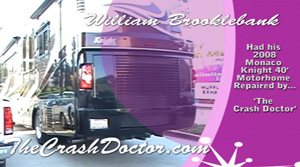 Complete Paint jobs on large motorhomes can be very expensive. Dr. Jay can save motorhome and RV owners a lot of money by doing precision damage repair and color match and blend painting on just those areas affected.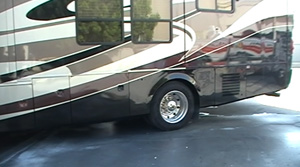 Auto Body Unlimited Inc.works on all sizes of RV's and Motorhomes, Road Bear Motorhome and RV dealer is one of Dr. Jay's clients. Watch this video and hear what the owner of this 40' foot Monaco has to say.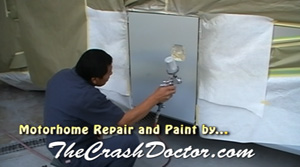 Doc Jay provides many specialty services for motorhomes and recreational vehicles, normally not found at other body shops.
.

Large Motorhomes require Precise
Color Match and Blending for Repairs to keep from doing a complete paint job!
Dr. Jay has a very 'specialty' shop. With custom jobs from Corvettes and Award Winning Muscle Cars to Commercial Trucks and Motorhomes, Auto Body Unlimited inc. can handle just about any type vehicle auto body repair and paint.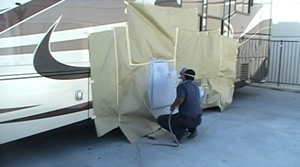 The same professional quality repairs are given to
all types of vehicles.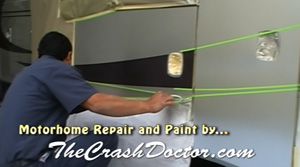 Auto Body Unlimited Inc's techncians are skillfully trained. Here one of Dr. Jays techs applies precision pinstriping in order to match the detail of the paint job on this 40' motorhome.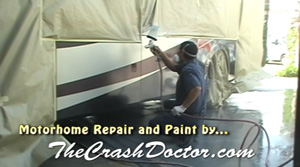 The Crash Doctor 'Doc Jay', only uses the finest high quality paints, technology preparation procedures
on all normal to medium duty trucks, RV's and Motorhome Repair and Paint jobs.