This 34 foot Fleetwood Bounder Motorhome required front end Dent and Damage repair with special color matching and blending techniques from Dr. Jay to bring them back to showroom looking condition again! Watch the video and hear an owner's Review!

The work required front bumper assembly, both front lamps, brackets, emblem replacement, wheel cover, bracket replacements and more.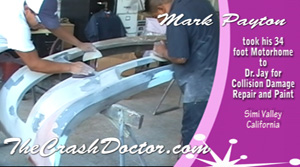 The damaged top and bottom front bumper was maticulously prepared, sanded, color blended, matched and polished for that showroom look.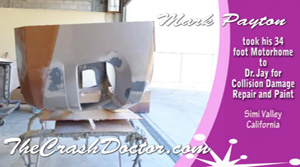 High quality Motorhome repairs and paint with color, blend and matching are a specialty and Auto Body Unlimited Inc provides it..


Mark Payton broght his 2006 Fleetwood Bounder 34 Foot Motorhome
to Dr. Jay's RV and Motorhome Center in Simi Valley for collision damage Repair!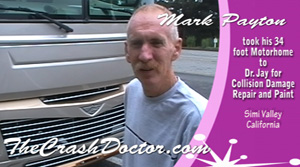 "I took my Motorhome to Auto Body Unlimited Inc and they did a Great Job!"
Mark Payton - Westlake Village, CA
Collision repairs on motorhomes require a shop with
the space, the technicians, and the expereince to do the repair and paint jobs right. That's exactly why so many are bringing in their RV's and Motorhomes to Dr. Jay's
RV and Motorhome center in Simi Valley.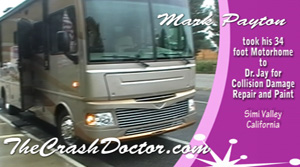 Auto Body Unlimited Inc.works on all sizes of RV's and Motorhomes, Road Bear Motorhome and RV dealer is one of Dr. Jay's clients.
.

Medium to Large sized Motorhomes require special attention to Precise
Color Match and Blending for Repairs to prevent having to do a complete paint job!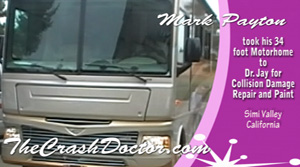 The same professional quality repairs are given to
all types of vehicles at Auto Body Unlimited Inc.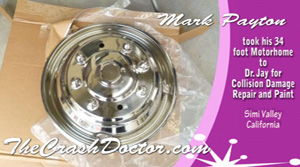 When your RV or Motorhome leaves Auto Body Unlimited Inc., you can be it will look showroom new again, on all areas.
The Crash Doctor 'Doc Jay', only uses the finest high quality paints, technology preparation procedures
on all normal to medium duty trucks, RV's and Motorhome Repair and Paint jobs.
Doc Jay provides many specialty services for motorhomes and recreational vehicles, normally not found at other body shops.