This 1987 Chevrolet El Camino was completely restored by the Simi Valley Restoration Expert Specialists of Dr. Jay, Auto Body Unlimited Inc..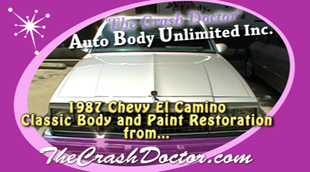 The El Camino restoration work required refinishing and re-filling of front bumper assembly, header panels, grille, emblem, fenders, molding, trim, mirros, bedliner and much more.

.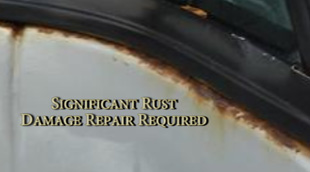 The 87 El Camino also required quarter panel, rear glass, side molding and chrome wheel opening work.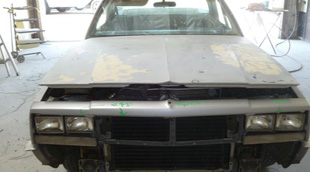 Dr. Jay maticulously gave Jerry and Adrian's El Camino a throrough Color Sand and Buff for an award winning two tone finish. It looks like this El Camino came right off the Showroom floor when Dr. Jay was finished.


JERRY & ADRIAN SKOCZYLAS' El Camino Classic Restoration and Paint Review Video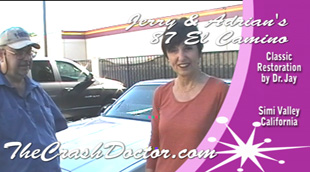 *Jerry and Adrian are repeat customers of Dr. Jay. Watch the Video and see what Adrian has to say about the Award Winning Restoration Job from Dr. Jay
Dr. Jay repaired dents, disassembled and reassembled car for Restoration and Complete Paint with Two Tone Finish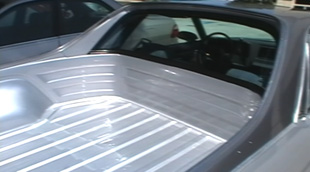 Compare the close-up of the rusted aread around the bedliner and window area on the 'Left' to the finished work on the 'Right', above. After Dr. Jay's precision restoration work he made the rusted moldings and bedliner look like it came from the factory!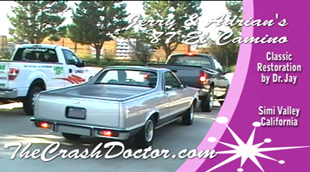 *Note: Dr. Jay uses only the highest quality primers and paints on his Paint Jobs!
VIP Discount Card Video
Specials on Repairs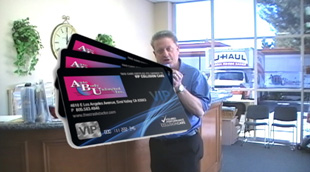 Auto Body Unlimited Inc. is fast becoming the Corvette Center for Southern California.
Contact Dr. Jay personally!
(800)
679-4848
1957 Chevy Painted by Dr. Jay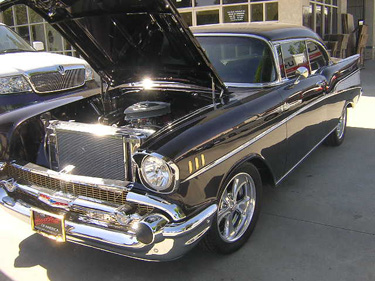 ThIs 1957 Chevy Bel Air Muscle Car Restoration and Paint job has been entered into many Car Shows. See why Muscle car owners bring their prized autos into Dr. Jay
Attention Car Clubs!


If you're a member of any car club, we encourage and invite you to spread the word around and stop by yourself for a personal tour and send your friends to Dr. Jay's web site where you can watch Videos on some of his special jobs.