Dr. Jay is fast becoming the MG European Sports Car collision repair, paint and restoration center for California serving European makes and models of all kinds. As one of only 2 I-Car Gold Body Shops in the United States Auto Body Unlimited Inc 'The Crash Doctor' is the one to see!

Doc Jay provides a special service very few shops do, he allows his customers to save some money by doing some of their own prep work, like in the Case of 'Mike's' 69 MGB.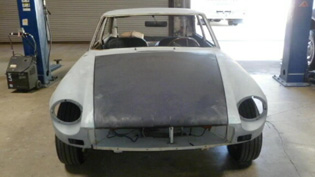 Color Match and Blending are used to to carefully and skillfully blend in side panel damage repairs necessary in order to return this Classic European Auto to it's Award Winning Restoration condition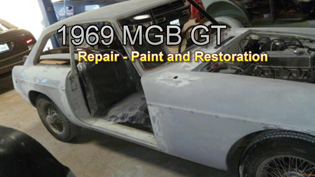 This is a perfect example of investing in something that could bring a high return. You won't find Mike's MGB GT all over California, they're no longer produced and it is a rare classsic. European auto owners are now discovering Dr. Jay for his prestigeous complete Restoration and paint jobs to increase the resale values and owners of European classics are extremely intent on the increased values of their prized autos. A smart move in this economy for all types of car owners.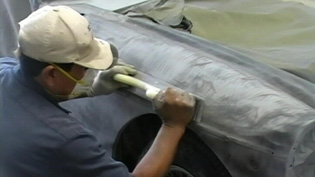 Just some of the Restoration, Refinish, Repair and Specialized Paint work required on Michael's 69 MGB included:

TRIM FOR PAINT

ALIGN AFTERMARKET HOOD

DOORS , HOOD AND LIFTGATE

GLASS FRONT & REAR GLASS

CUSTOMER SUPPLIED RUBBER SEAL

LT Qtr extn HZA

SAND & SEAL ENTIRE EXTERIOR

ACID EDGE PRIME AS NEC

STRIP DOWN TO METAL

REFINISH VEHICLE COMPLETE

CLEAR COAT

JAMBS

COLOR MATCH

COLOR SAND & BUFF

SPECIAL BRITISH RACING KELLY GREEN
PAINT WAS USED










Michael Jacobsen was happy to see
his rare Classic British MGB GT restored to Award winning condition after patiently waiting for Jay to acquire just the right and exact color of the very hard to find, British Kelly Racing Green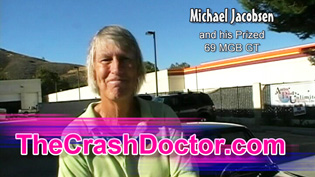 Auto Body Unlimited Inc. boasts a major player in the Corvette Fiberglass repair and paint area and European specialty cars are also an area of expertise Dr. Jay has.
__________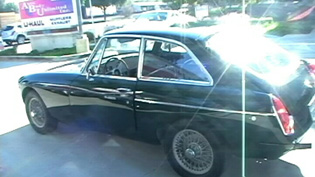 Mike's Classic MG awaited the location of the exact Kelly British Racing Green Paint and it was worth the wait.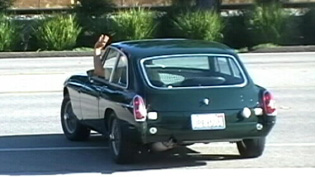 Dr. Jay is California's European Automobile body and paint repair and restoration Center.

Stay tuned for Dr. Jay's New Growing European Car Section.
_______________

Award Winning
Body Shop Owner
Dr. Jay - Jay Schoen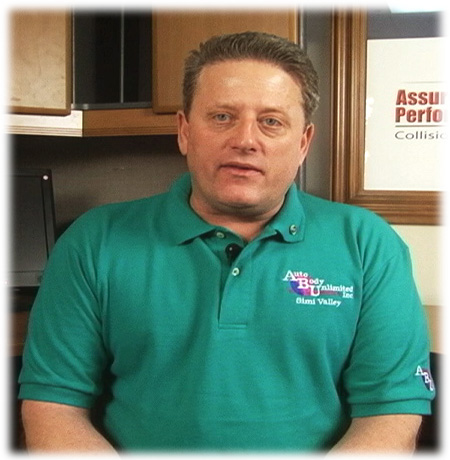 Message from Dr. Jay
"My first car I ever owned was a 1969 MGBGT. I bought this car when I started College at UCLA and had the car until I bought my first home. It was a tough decision as just starting out I was short on closing cost and had to sell the car. My MGB GT had chrome wire wheels, very, very hard to find now-a-days, and was dark blue, my best friend in college has a yellow 1968 MGBGT. This car could cruise in overdrive at 100 miles per hours. I did everything with this car until I started working full time and bought a new car. It was an excellent experience as I learned a lot about European autos before even starting in the Auto Body Industry, you could say that my experience with European sports cars proceeded my business experience, but it sure helped."

(800) 679-4848


4610 E. Los Angeles Ave. Simi Valley, CA 93063


European and British Car Owners can be as selective as Corvette owners when deciding where to take their prized autos to for repairs and painting. Dr. Jay is becoming the First Choice for all Classic and New European specialty cars in California.


Dr. Jay has specialized experience for all European automobile body repair and paint needs

_______________________

History and Background
1969 Classic British MGB GT



The MG Car Company Limited was a former British sports car manufacturer founded in the 1920s by Cecil Kimber. MG also produced saloons and coupés. MG is from Morris Garages. The MG business was Morris's personal property until 1935 when he sold MG into his holding company, Morris Motors Limited, restructuring his holdings before issuing (preference) shares in Morris Motors to the public in 1936.

The original MG marque was in continuous use (barring the years of the Second World War) for 56 years after its inception. Production of predominantly two-seater sports cars was concentrated at a factory in Abingdon, some 10 miles (16 km) south of Oxford. The British Motor Corporation (BMC) competition department was also based at the Abingdon plant and produced many winning rally and race cars. In the autumn of 1980, however, the Abingdon factory closed and MGB production ceased.

In 1965 the fixed head coupé (FHC) followed: the MGB GT. With continual updates, mostly to comply with increasingly stringent United States emissions and safety standards, the MGB was produced until 1980. Between 1967 and 1969 a short-lived model called the MGC was released.

The MG Car Club was founded in 1930 for owners and enthusiasts of MG cars


Contact Dr. Jay today for all of your European specialty car needs


(800) 679-4848